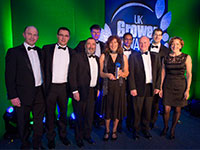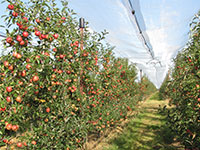 Boxford (Suffolk) Farms Ltd wins Top Fruit Grower of the Year Award 2015
Local Suffolk apple growers, Boxford (Suffolk) Farms Ltd were presented with the national 2015 Top Fruit Grower of the Year Award on the 25th February at the prestigious Grand Connaught Rooms in London.
The 77 year old family business, which also created Copella Fruit Juices and the 4 star Stoke by Nayland Hotel, Golf and Spa, has been recognised with this award for their highly innovative technology and growing systems that they have invested in over the last 10 years. These developments reflect the family tradition of innovation and enterprise and at the same time are helping to build a sustainable business for the future.
Particular focus has been placed on planting intensively, using environmentally friendly irrigation systems and growing the most suitable apple varieties – both traditional and new – all maximising and protecting yield, whilst minimising the environmental impact.
Robert Rendall, Group Director said: "We are so excited to have received this prestigious award as a first time entrant, and to have all our hard work recognised in this way. As a team we challenge ourselves to be the best growers that we can be – in a worldwide market place. Our Farms Director, Robert England, and our highly motivated and capable team have delivered this and more with their energy, enthusiasm and dedication."