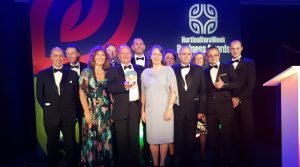 A family-run business now in its 80th year, Boxford (Suffolk) Farms won `Soft-Fruit Grower of the Year' at the Horticulture Week National Awards in London's Mayfair on Thursday 28th June.
The judges cited the company's long-term business strategy and innovation-led vision, which has resulted in a remarkable year-on-year growth in turnover of 30%, as key factors contributing to the win.
Established in 1938, Boxford (Suffolk) Farms grows 250 hectares of fruit on the Suffolk/Essex border and, together with its sister companies Peake Fruit and Stoke by Nayland Hotel, Golf & Spa, employs up to a total of 600 staff. Specialising in strawberries, raspberries, blueberries, apples, cherries and asparagus, the family farm has now gained a reputation for delivering high value, quality fruit at key periods of the year – most notably on the shoulders of the seasons. This has caught the attention of major retailers like Sainsbury's and Tesco who now stock their mixed berry packs in a number of stores.
Susanna Rendall, second-generation family member and CEO of the business, was delighted to accept the award: "We're thrilled to have received this recognition from the judges. These are very challenging times in our industry, and we have invested significantly in technology and new growing techniques to remain competitive. As a business we are also always looking ahead for innovations in fruit production and this award will help spur us on to greater achievements. Fruit growing has been at the heart of our family business in Suffolk for 80 years and we, and our brilliant team of staff, still have the same passion and pride in our farm as our parents did when they started farming here in the late 1930s."
She continued: "With all the uncertainties ahead, it is imperative that we continue to have access to enough seasonal workers to harvest our fruit and provide delicious home-grown UK produce for our customers. This will also enable us to stay competitive with our EU counterparts so that consumers can continue to have the choice to buy British rather than resort only to imports."
Environmental and technological innovation has been a key driver for the family business. The development of heated glasshouses, as well as table-top production, has helped improve efficiency and extend the growing season to allow for fruit production both earlier and later in the season from March to November, satisfying market demand for both early and late UK fruit.
The company's focus on innovation has also contributed to the adoption of new and exciting ways of delivering maximum production with minimum waste. The on-farm Anaerobic Digestion plant produces electricity and heat by turning maize, out-graded fruit and apple pomace into energy. The heat is used to dry woodchip for the glasshouse biomass boilers and the electricity is used to power the farm's cold stores and buildings as well as the family's sister business – Stoke by Nayland Hotel, Golf and Spa.
Moving forward, Boxford (Suffolk) Farms is looking to introduce ultraviolet plant protection and LED trials this year, as well as growing new varieties of fruit.